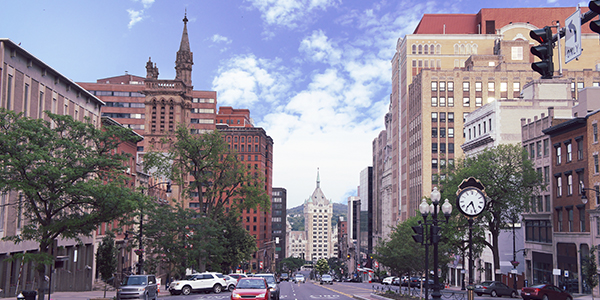 In 2017 NYSFDA set out to further enhance collaboration between the state and local associations. Working together, NYSFDA and local association leaders spent three years brainstorming and researching several options to accomplish this goal. In the Fall of 2020 NYSFDA unveiled the Chapter Model and held a member-wide virtual town hall meeting to discuss the concept in its latest form. The following goals were identified:
To unite the funeral directors of the chapter for the mutual welfare of all funeral directors statewide.
To encourage and provide networking opportunities and cooperative endeavors among funeral directors.
To enhance the funeral service industry's charitable, community and legislative endeavors.
The proposed Chapter Model was presented to the NYSFDA Board of Directors during their December 2020 meeting. At which time, the Board approved moving forward with a Pilot Program. In early 2021, NYSFDA hosted a kick-off meeting and from there started meeting regularly with local leaders from across the state. Following several conversations and additional outreach, the following activities and functions were identified as central to the Pilot Program:
Coordinate Continuing Education (CE) opportunities
Enhanced two-way communications between Chapters and State
Advocacy support and grassroots outreach
Statewide community outreach and educational events
Annual charitable/civic event hosted on local level
Hosted networking events
The next step involved regular meetings, which continue today, to build events, activities and methods for carrying out and meeting these objectives.
Together we continue to make progress in developing and defining the Chapter Model Pilot Program. If you have questions about the Program, please contact your local association leaders, or reach out to NYSFDA at 800.291.2629 or info@nysfda.org.
---
Local FDAs
Adirondack Funeral Directors Association
Broome County Funeral Directors Association*
Capital District Funeral Directors Association*
Cattaraugus-Allegany Funeral Directors Association
Central New York Funeral Directors Association
Chautauqua Funeral Directors Association
Columbia-Greene Funeral Directors Association
Dutchess-Putnam-Ulster Funeral Directors Association*
Erie-Niagara Funeral Directors Association*
Finger Lakes Funeral Directors Association
Jefferson-Lewis Funeral Directors Association
Leatherstocking Funeral Directors Association*
Metropolitan Funeral Directors Association*
Nassau/Suffolk Funeral Directors Association*
Northstar Funeral Directors Association
Ontario-Wayne-Yates Funeral Directors Association
Orange-Rockland-Sullivan Funeral Directors Association
Rochester-Genesee Valley Funeral Directors Association
St. Lawrence Funeral Directors Association
Steuben Funeral Directors Association
Tri-County Funeral Directors Association
Westchester County Funeral Directors Association
*Participating Pilot Chapter